9/9/2015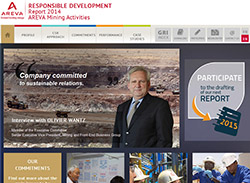 For the past five years, AREVA Mines has reported on its commitments to its responsibilities by publishing a Responsible Development Report. The dedicated website makes this information available to the widest possible audience, and enables dialogue with stakeholders by asking them to prioritize responsibility issues in an online questionnaire. This questionnaire is open to all and will help make the 2015 report even more relevant.
Access the online questionnaire on the dedicated website for the Report
A report that is part of the responsibility initiative
A report that is part of the responsibility initiative
At AREVA's mining activities, the responsibility initiative is part of a continuous improvement process and applies best practices in the mining industry. The initiative gained in strength when AREVA joined the International Council on Mining and Metals (ICMM) in 2011.

The Responsible Development Report is among the commitments made within the ICMM. It enables us to report to our stakeholders, both inside and outside the organization, on our performance in the main Corporate Social Responsibility (CSR) issues.

As in the past two years, the report meets the standards of the Global Reporting Initiative (GRI), an internationally recognized framework for extra-financial reporting with a rating of A+, which is the highest possible rating. It has been awarded after an independent third-party audit by the audit firm Ernst & Young, which visited several in 2014 AREVA Mines' site in Mongolia and the AREVA Mines's headquarters at the AREVA Tower. The last year audit covered Kazakhstan and Bessines sites.
How are the commitments covered in the report chosen?
How are the commitments covered in the report chosen?
This year's issue reports on progress on 7 main commitments: occupational safety, health and radiation protection, environment and biodiversity, regional integration, social involvement, post-mining activities and innovation. Risk management, ethics and human rights, which are also considered as relevant issues, are included in the list.

The challenge facing CSR teams at AREVA Mines is to enable stakeholders to express their expectations concerning disclosures, together with their priorities, to achieve more relevant CSR performance reporting.

That is why the team has set up an online questionnaire open to people inside and outside the organization. You too can assess topics and issues that are particularly important for you.
Click on www.rse-mines.areva.com to complete the questionnaire and share your views