6/11/2015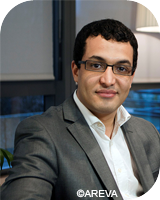 Anass joined the Areli Emergence association in 2003 as the valedictorian of its first graduating class. During his years of study, he benefitted from very useful mentoring, including advice, guidance, help in preparing interviews and explanations of some of the business world's codes.
"After joining AREVA, I became a sponsor myself, and I've helped science students. I was able to give them advice, support and in some cases the opportunity to do an internship."
Together with the AREVA Corporate Foundation, Anass recommended and supervises the partnership with Areli Emergence. The objectives are to promote equal opportunity and create an open network of future managers and executives from modest backgrounds and, in many cases, from immigrant backgrounds. The program has selected 50 promising students each year for the past 10 years.
Areli Emergence offers the students financial aid, personalized supervision, tutoring from a more advanced student in the same subject area, mentoring by company employees to learn about the business world, and network development.
"This a project I care a lot about, one that I've been contributing to since I was a student, and I wanted to open it up to AREVA employees."