3/13/2014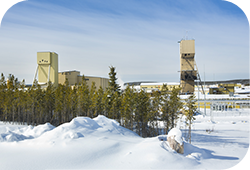 The first uranium ore produced at the Cigar Lake mine, operated by Cameco in the Canadian province of Saskatchewan, departs today for AREVA's McClean Lake mill located 70 km away.
The Cigar Lake project represents a $2.6 billion investment and will employ more than 600 highly skilled workers, the majority of which are northern Saskatchewan residents. As many as 1,000 people worked on the construction of the mine which relies on a high-pressure water jet boring mining system for production.
All of the ore is expected to be processed at the McClean Lake mill, operated by AREVA, beginning by the end of the second quarter of 2014. With a production capacity of 10,900 tonnes of uranium per year, the McClean Lake mill is expected to produce 770 to 1,100 tonnes of uranium concentrate from Cigar Lake ore in 2014. Its annual production rate will ramp up to 8,100 tonnes as early as 2018.
"Thanks to Cameco's technology for the Cigar Lake mine and AREVA's for processing this uranium ore, we are proud that production from this unique deposit has begun. Our industrial partners and Saskatchewan's economy will benefit from this project for many years to come," said Olivier Wantz, senior executive vice-president of AREVA's mining business group.
Contact
AREVA Press Office:
Julien Duperray / Katherine Berezowskyj / Aurélie Grange / Jérôme Rosso
Tel: +33 1 34 96 12 15 - Fax: +33 1 34 96 16 54
email: press@areva.com


AREVA Investors Relations:
Manuel Lachaux
Anne-Sophie Jugean
Tél : +33 1 34 96 11 53
email: manuel.lachaux@areva.com