11/25/2014
Press Release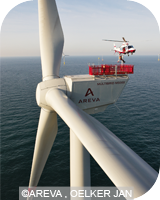 AREVA and the operating consortium DOTI (Deutsche Offshore-Testfeld und Infrastruktur GmbH & Co. KG) signed a five years contract for the service and maintenance of the AREVA turbines at the alpha ventus wind farm. This contract extends the previous service and maintenance agreement, initiated in 2009 with the commissioning of the six M5000-116 5 MW turbines.
AREVA will provide the complete maintenance for its turbines including the inspection and exchange of wearing parts. The turbines will be continuously monitored year-round from AREVA's monitoring center in Bremerhaven, while the service team will be based in Emden.
Alpha ventus, the first offshore wind farm in Germany, is located 45 km off the island of Borkum and generates electricity for 70,000 households.
"EWE, E.ON and Vattenfall have four offshore wind farms in operations or under construction in the North Sea. Alpha ventus is the project which pioneered this development, in cooperation with AREVA," said Wilfried Hube, DOTI Managing Director. "The pursuit of collaboration with local suppliers also secures jobs in German coastal regions."
"The DOTI's continued confidence in our expertise is source of pride," said Arnaud Bellanger, CEO of AREVA's Wind Business Unit. "The experience gained at alpha ventus will give us an important advantage for the maintenance of our entire offshore installed base in Germany."