6/20/2013
Two new innovations delivered to Japanese customers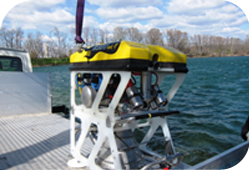 Two new innovations delivered to Japanese customers
The Back End BG's teams have just delivered two new solutions for mapping and decontaminating the 20K exclusion zone around Fukushima to our Japanese partners.

The first is a mini submarine called ROV ("Remotely Operated underwater Vehicle"). Carrying a probe, it takes readings under water and transmits them so that they may be processed and a map of contamination "spots" drawn up. After training the teams of the Japan Atomic Energy Authority (JAEA) in its operation, it will be used to map the lakes around Fukushima.

Another innovative solution is the unit to sort soils with low levels of radionuclide contamination developed by AREVA in partnership with GRS Valtech. The automated mobile unit will be capable of separating clean earth from contaminated soils at the rate of 100 metric tons per hour. Testing is planned in the Fukushima region during the summer with our Japanese partners ATOX, Chiyoda Technol and SKS.

These two solutions join a trailer that measures contamination on the roads and a drone that maps difficult-to-reach contaminated areas. Both of these prototypes have been operating for several months in the Fukushima region.

Together, they are proof of AREVA's recognition as a leading player in site rehabilitation.
A model of cooperation launched two years ago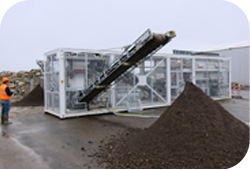 A model of cooperation launched two years ago
The innovations are the product of model cooperation between AREVA Japan and the D&D and Recycling BUs to process contaminated water in the aftermath of the Fukushima accident.

For Pascal Prud'homme, project manager with the Innovation Research and Projects Department of the Recycling BU, and Marc Messalier, an expert with the Technical Department of the D&D BU, "the innovations we've been developing for the past two years share the objective of being pragmatic, autonomous, and easy to transport and deploy. They use robust off-the-shelf technologies to facilitate their operation and maintenance."

Another success factor: good knowledge of the field and of our Japanese partners' expectations, as confirmed by Thierry Varet, Technical Director of the D&D BU: "The project philosophy is to meld AREVA's engineering skills with those of our French and Japanese partners to adapt existing equipment to a nuclear environment. The machines' performance is suited to the size of the Fukushima zone."