5/30/2016
Press release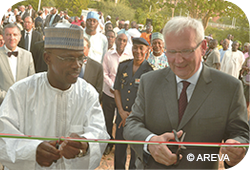 After 30 years of existence, the Uranium Pavilion located within Niamey's Boubou Hama National Museum was renovated in April and inaugurated on Monday May 30 2016, under the distinguished patronage of Assoumana Mallam ISSA, Minister of the Cultural Renaissance, the Arts and Social Modernization, and Olivier Wantz, Deputy General Manager in charge of AREVA's Mines-Front End Business Group.
More than a hundred personalities, members of the government and of the diplomatic community, directors of mining companies and technical departments in charge of Mining, managers of the Boubou Hama National Museum and partners of the state of Niger came together to discover the fully renovated Pavilion.
« With this new pavilion, we can see the face of a uranium industry building on its past, deeply anchored in the present and looking towards the future. I am glad that younger visitors to the Boubou Hama National Museum can, with this new Pavilion, discover the passion of our industry, the opportunities that it offers and the quality of the industrial partnership, historic, robust and long-lasting, between Niger and AREVA. They will perhaps be able to take away with them a desire to become the miners of tomorrow and go on building the future of the mining industry in Niger and throughout the world », emphasized Olivier Wantz.
For Assoumana Mallam ISSA, the Pavilion dedicated to uranium « reinforces the many initiatives of the authorities to make culture in general and the cultural heritage in particular a powerful development lever. I extend to you my warmest thanks for having illuminated with your presence this reception ceremony of the Pavilion dedicated to uranium, which will mark the history of Niger and the Boubou Hama National Museum".
The Pavilion was renovated as part of the National Museum's drive to explain and transmit to the largest possible number of visitors - about 200,000 visitors per year – the huge wealth of Niger's heritage, its ethnographic collections, its remarkable archeological remains but also its industrial know-how, including uranium mines. Visitors will be able to see what mines actually look like today, discover the changes in production technologies, the advances and progress made in safety and environment friendliness and become acquainted with the men and women living through and around the mines, forming a truly dynamic social framework.