8/14/2013
News brief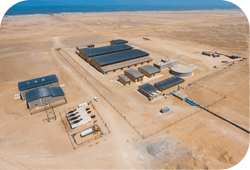 On August 14th, 2013, AREVA Namibia and Namibia Water Corporation Ltd (NamWater) signed a first water supply agreement for the distribution of water by NamWater from AREVA's Erongo Desalination Plant to several mines in the Erongo region.
Located deep in the Namib Desert, the Erongo region is suffering at the present time from a severe water shortage, as the pumping rate for the Omdel* aquifer has reached its maximum. This contract, which will preserve the Erongo region's water reserves, calls for the distribution of water by NamWater to the three uranium mines of Rössing, Langer Heinrich and the Husab Project.
AREVA is the sole owner of the Erongo desalination plant, which has been operated and maintained by AvengWater for the past three years. At full capacity, the plant will be able to produce 20Mm³ of potable water per year thanks to the adoption of state-of-the-art technology, including screen filtration, ultrafiltration, reverse osmosis, limestone contact and chlorination. A part of this capacity will be used by the Trekkopje mine when market conditions are favourable for restarting operations.
According to Hilifa Mbako, Managing Director of AREVA Namibia, "this first agreement is a prelude to a medium-term agreement that will enable the distribution of up to 10Mm³ per year. We are proud and happy that AREVA's Erongo Desalination Plant contributes to the water supply security and preserves the water reserves of the Erongo region."
*State-owned NamWater extracts about 9Mm³ of potable water each year from the Omdel aquifer and 6Mm³ from the Kuiseb river to efficiently supply the water needs of Henties Bay, Swakopmund and Walvis Bay and mining entities in the Erongo region. Permission would expire in October 2013 to extract from Omdel and the permit would be reduced to half (4.5Mm³) because the resource is exhausted.