10/7/2013
Press Release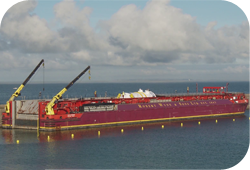 The vessel, a major component of the EPR reactor, has been delivered to the EDF Flamanville nuclear power plant construction site (Manche, France) concluding a journey that started at the beginning of September.

This new stage in the project construction marks the ramp-up of operations in the nuclear island and acceleration of electromechanical installation work at the site. The vessel will be installed inside the reactor building over the coming months. Following the dome installation on July 16, the civil engineering work for the Flamanville EPR site is now 95% complete.

After leaving AREVA's Saint Marcel facility (Saône-et-Loire, France) where it was manufactured, the equipment was shipped by sea to the port of Diélette on the northwestern coast of France before being transported to the nuclear power plant site.

As the main component of the reactor coolant system, the vessel encloses the reactor core. Weighing several hundred tons, this complex piece of equipment required 50,000 hours of design and manufacturing work (welding, machining and assembly).

Upon delivery of the component, Claude Jaouen, senior executive vice president, AREVA Reactors & Services stated: "the arrival of the vessel at the Flamanville EPR reactor site represents a key step forward for this project. This success reinforces AREVA's position in the major nuclear components market."

Antoine Ménager, director of the Flamanville EPR site for EDF stated: "Following the installation of the dome this summer, the activities on the EPR construction site continue to move forward with the arrival of the reactor vessel. The next step will be the installation of the vessel in the reactor building and the start of work for the assembly of the reactor coolant system."