6/22/2012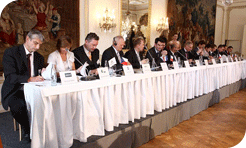 Following the signing of Memoranda of Understanding with 14 Czech companies in March, AREVA signed today another series of cooperation agreements with 11 additional companies* mainly specialised in key industrial equipment and civil works activities.

AREVA is actively pursuing the pluri-regional localization strategy of its supply chain for its ongoing and future EPR™ reactor projects. Already implemented on the group's construction sites in Finland, France and China, this approach also applies to forthcoming projects such as Temelin 3 and 4 in the Czech Republic. Today's agreements further strengthen AREVA's commitment to leveraging the industrial and nuclear expertise existing in the Czech Republic for its projects in the country and worldwide.

"This second series of cooperation agreements reaffirms our commitment to participating in the extension of the Temelin nuclear power plant with the support of our Czech partners", said Stefan vom Scheidt, Director of AREVA NP GmbH in Germany, at the signing ceremony held at the French Embassy in Prague in presence of the Ambassador of France to the Czech Republic, Pierre Lévy.

"Cooperating with the Czech industry for several decades now, AREVA's pluri-regional localization strategy has already brought bankable prospects and commercial opportunities to the Czech companies. We are looking forward to further extending this successful relationship as the Temelin project is moving forward. Up to 70% of the work on our EPR™ projects is open to procurement by local companies", continued vom Scheidt.

The 25 companies now pre-qualified to be part of AREVA's global nuclear supply chain will join some of the major Czech industrial groups, such as TS Plzen and others, already working for AREVA on the group's projects in Finland, France and China. With more than 1 billion of Czech crowns' worth of equipment and service contracts awarded to Czech companies in the last three years, AREVA has become an important contributor to the Czech nuclear industry.

"These additional cooperation agreements are important for the group and are a strong differentiator in AREVA's offer to CEZ for the Temelin project. The regionalisation of our supply chain and close cooperation with the local industry - in complement to our global suppliers - allows us to ensure competitive, on time and on budget delivery to utilities", said Thomas Epron, Director of AREVA's branch office in the Czech Republic.


* Afras Energo s.r.o., EGE, spol. s.r.o., Janka Engineering s.r.o., MOSTRO a.s., M Power Engineering a.s., MSA a.s., První Izolační Alfa s.r.o., REKO Praha a.s., Siag CZ s.r.o., ZAT a.s., and Ždas a.s.