9/11/2014
Press release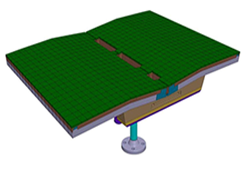 AREVA signed a contract with the agency Fusion for Energy* which gathers the European partners of the ITER fusion project, to manufacture a "first wall" panel prototype. The contract also includes development of the manufacturing processes.
The "first wall" panels are one of the covering components that wrap the internal surface of the ITER reactor vacuum vessel and protect it during the nuclear fusion reaction. Together with a cooling loop containing water, they will remove the heat produced in the vacuum vessel.
The panel will be manufactured at the AREVA Le Creusot Technical Center. After an initial study phase, the parts will be manufactured and assembled in several stages using an innovative process involving hot isostatic pressing.
The prototype is being manufactured in view of an upcoming call for tenders for the mass production of panels, currently forecast to be launched by 2017.
In April 2011, AREVA has already won a contract with the agency Fusion for Energy to manufacture panel semi-prototypes to the 1/8th scale. The first semi-prototype was delivered in 2013.
"This success shows the capacity for innovation of the AREVA group, which has the necessary expertise to contribute to overcoming the challenge of thermonuclear fusion. In the future, the new technologies proposed will help develop a new generation of reactors capable of reproducing the reaction that takes place within stars, thereby producing an abundant source of energy," declared Philippe Samama, AREVA's Senior Executive Vice President, Reactors & Services Business Group.

* Fusion for Energy (F4E) is the European Union's organization for strengthening Europe's global role in developing fusion energy. The organization is principally in charge of managing Europe's contribution to ITER, the international fusion energy project.