11/22/2013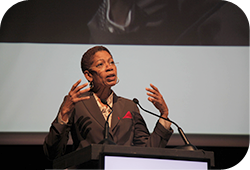 Mrs. Pau Langevin, Minister of Educational Success, reminded the audience of how important it is to cast a net over children's environments – the family, school and recreation – to more successfully prevent illiteracy, and she hailed the Family Educational Programs (AEF, Actions Éducatives Familiales) developed by the ANLCI and supported by AREVA Corporate Foundation and others.
Solutions were shared through a number of workshops to acquire proficiency in the use of educational tools designed for professionals, and in particular to develop the Family Educational Programs. Aimed at illiterate or linguistically-challenged children and parents, these programs have already been widely tested in the field and help prevent the risk of academic failure among children while assisting parents in mastering basic knowledge and thus improving their ability to supervise their children's performance in school.
Through its partnership with the ANLCI, AREVA Corporate Foundation supports the establishment of Family Educational programs near its sites in France: Bollène, Lyon, Nimes, Chalon-sur-Saône, Nanterre, Avranches, Maubeuge and Jeumont.
Anti-illiteracy campaign: turning thinking about illiteracy upside down
Anti-illiteracy campaign: turning thinking about illiteracy upside down
For the first time in France, an information campaign was conducted on television, radio and in the newspapers to raise public awareness about a little-known and even invisible problem which is still underestimated but present everywhere: illiteracy.

By shining the spotlight on illiteracy, it provided a fresh look at the 2.5 million people concerned in France.
See the five press posters that turn thinking about illiteracy upside down