11/7/2013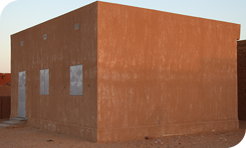 A new class, built thanks to funding provided by the AREVA Corporate Foundation, was inaugurated in a kindergarten in Arlit (North of Niger) on October 26th.
This welcome centre was created by the SAHEL* association for underprivileged children under six years of age. It run by active members of the SAHEL association over the last five years, including several volunteers who are group employees.
This new classroom helps 32 young underprivileged children from the community and will be able to accommodate 50 students during the next school year.
Thanks to the work carried out, the kindergarten is ensuring the continued operation and has now been approved by the Arlit School Board which will provide its support to this school initiative.
The inauguration ceremony was held in the presence of the Governor of Agadez's region, the Arlit Prefect, the Inspector of the Arlit Primary School, the Mayor of the Municipality and the heads of the mining companies SOMAÏR and COMINAK.
"Mohamed Sanoussi, a SOMAÏR employee and an active member of the SAHEL association, gave the following testimonial: "We are delighted to give disadvantaged children the opportunity to go to school at a very young age. Thanks to the support provided by the AREVA Corporate Foundation, this project has become a reality."
* The SAHEL association supports development projects in the north of Niger, mainly aimed at children from nomadic communities.