1/24/2014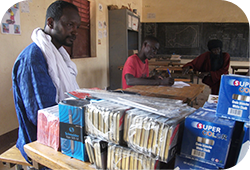 Last July, the strong turn-out by group employees for the AthleWorldTour race for a humanitarian cause enabled AREVA Corporate Foundation to give 100,000 euros to the Secours populaire français and its HED Tamat local partner.

The Foundation had committed to funding a support program for 10 schools in the rural commune of Ingall (Agadez region) to improve the students' living and working conditions and the enrollment rate in that area, which is mainly populated by nomads.
Over the first six months of the program:
The first donation of provisions (rice, millet, semolina, etc.) and kitchen utensils was made at the end of the year. The second will be made in February.
Supplies (textbooks, guides and other supplies), school uniforms and sports kits (clothing, balls, etc.) were also delivered to each school.
Twenty-five teachers were given a four-day training session in December.
The purchase of herds of milk goats is in progress.
Eight literacy centers are now operational, benefitting 200 learners.
Student enrollments have been closed since December 31. A total of 668 students (387 boys and 281 girls, nearly 35% of whom are new enrollees, and their teachers) are able to attend primary school.
Since January, all the conditions are gathered to provide education for children in these 10 structures.
"This project funded by the Secours populaire français and AREVA Foundation is a major contribution for HED Tamat and its partners as they confront the challenge of raising enrollment in the nomadic area," said Mr. Seidi Houmoudan, representing the local NGO HED Tamat. "We have observed the enrollment rate rise considerably this year, no doubt because school offers guaranteed living conditions through the school cafeteria, which provides at least two meals a day to the children. This is very encouraging and makes us believe that the overall goal of the project will be met quickly!".