11/12/2014
In brief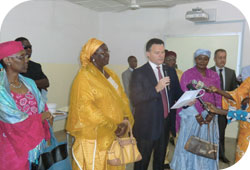 A project comes to life: 8,700 books were donated for 25 youth facilities in Niger through a partnership between the AREVA Corporate Foundation and the Biblionef association.
The French association has worked for some 20 years to promote reading and the availability of books for disadvantaged children throughout the world.
The donation was hailed during an official ceremony held on November 4th in Niamey attended by the Nigerien Ministers of Secondary Education, Primary Education, Literacy, Promotion of National Languages and Civics, by the Ambassador of France to Niger, and by schoolmasters.
For the Director of AREVA Mines Niger, Mrs. Bibata Nignon, "may this donation of books strengthen the abilities of our partner organizations to promote reading and assist in the development of children and teenagers."