4/10/2014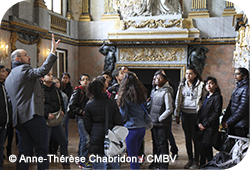 AREVA Corporate Foundation committed to two new projects in the cultural field with support to the Nuits de l'Enclave association and to the Baroque Music Center of Versailles.
The Foundation joined forces with Nuits de l'Enclave to produce cultural and educational workshops this summer (playwriting, visual arts and theater productions) with children in the schools and recreational centers of Valréas, Bollène and Vaison-la-Romain during the Nuits de l'Enclave Festival.
With the Baroque Music Center of Versailles, the AREVA Corporate Foundation supports baroque music and dance workshops for primary school and junior high school students with learning difficulties or from disadvantaged neighborhoods in Trappes. This initiative will culminate in a performance at the end of 2014 in the auditorium of the city's music school.
The Foundation also renewed its cooperation with Orange Rouge as an extension of the partnership begun in 2012. It is helping to organize ten art workshops and cultural field trips in the Ile-de-France region from January to June 2014, when troubled young people will work with artists to produce a joint art project.
In addition, AREVA Corporate Foundation is continuing its efforts with the Quai Branly Museum to produce a second traveling show of the museum's collections. Following Cergy-Pontoise in 2013, traveling workshops will be set up in Clichy-sous-Bois-Montfermeil in the fall of 2014, offering residents a wide variety of programs: family workshops, story time, exhibitions, art installations, theme conferences, special evenings, open air film screenings…