10/19/2015
In brief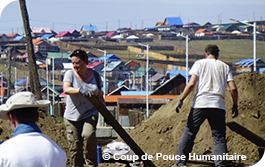 As a volunteer in the Coup de Pouce Humanitaire association, Anne proposed an educational project to the AREVA Foundation involving construction work in a school in Mongolia. The Foundation agreed to finance her program.
Last summer, Anne left for 15 days to participate in the construction of an extension to the school in a shanty town of Erdenet. From June to September 2015, five missions were carried out to construct a 400 m2 one-storey building. Anne headed up mission 4.
Verbatim
"I wanted to help, and Coup de Pouce Humanitaire made it possible.
I wanted to feel useful by carrying out a concrete project, the building of a school, where I can defend the cause of educating disadvantaged children.
I was able to put my commitment to work during my stay in Mongolia, but I also discovered a new culture, I learned to live with others, to share daily life with residents of the Erdenet shantytown.
It was a strong experience for me, and it will follow me in my personal life and in my work."
The association
Coup de Pouce Humanitaire choses partners who are spearheading long-term actions in the field and offers them specific assistance by organizing volunteer missions that contribute to the achievement of their projects. The missions involve a group of 10 to 14 volunteers and last 15 days.