5/6/2015
In Arlit, a new nursery school classroom, built to accept an additional 30 children, was inaugurated on Monday, May 2. While they are in school, their mothers have an opportunity to work or to go to classes.

In Tafadek, a village located between Arlit and Agadez, the Matins du Soleil association and its local partner built and equipped a permanent building to replace the straw hut that served as a school, where two levels of education are now taught by a full-time teacher.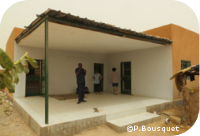 In Niamey, a boarding school is under construction thanks to the Appuis association. The school will have some thirty boarders, mostly girls, starting with the 2015-2016 school year.
In the Maradi region south of Niger, children at 9 schools and families at 6 health homes will benefit from the project launched in June 2015 by Electriciens Sans frontières. The 15 buildings will be equipped to receive water and electricity.