8/23/2016
In brief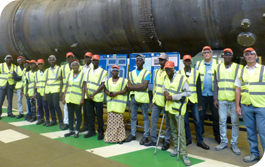 This visit, organized in mid August, is part of a reciprocal program involving French and Nigerien high school students and sponsored by the association APPUIS, an association devoted to promoting and launching solidarity initiatives. Supported by the French Foreign Affairs Ministry, the association is largely devoted to enabling young Nigeriens to follow their school education at secondary and high-school level, and on into further education.
Among the members of the APPUIS association, an employee from the Chalon / St-Marcel site has gained the support of the AREVA Foundation to build a boarding school in Niamey.
The key to staying in school education
The children sponsored by the APPUIS association are all from isolated bush villages along the Niger River. When they want to follow school education, studies or training, the problem that very often arises for them is housing. In Niger, there is no boarding in schools (except in certain elite high schools). Parents are therefore required to find guardians for their children among family members. But most children from these villages do not have family in Niamey. To continue their education, the only possibility is a place in a boarding school.
The association purchased a plot of land in Niamey and in 2015 it built a boarding school for girls on the plot. The association is carrying on its work in 2016 with the building of an extension to the boarding facilities and a study room.