4/29/2015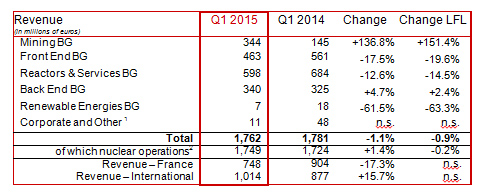 It should be noted that revenue may vary significantly from one quarter to the next in the nuclear operations. Accordingly, quarterly data should not be viewed as a reliable indicator of annual trends.
In the 1st quarter of 2015, AREVA generated consolidated revenue of 1.762 billion euros, representing a decrease of 1.1% (-0.9% like for like) compared with the same period in 2014.
Foreign exchange had a positive impact of 36 million euros over the period, while consolidation scope had a negative impact of 39 million euros.
At March 31, 2015, the group had 47.520 billion euros in backlog, a 1.4% increase in relation to December 31, 2014 (46.866 billion euros) reflecting a favorable foreign exchange impact.
It should be noted that the backlog does not include the amount from agreements signed with EDF in October 2013 for the EPR reactors project at Hinkley Point in the United Kingdom or for the related fuel.
The order intake totaled 881 million euros in the 1st quarter of 2015, an increase compared with the 1st quarter of 2014 (668 million euros).
See Appendix 1 – Order intake and backlog
-----------------------------------------------
1 Includes Engineering & Projects operations
2 Nuclear operations: operations in the Mining, Front End, Reactors & Services and Back End Business Groups and in Engineering & Projects (recognized under Corporate & Other)
The full press release (57 ko)