A comprehensive funding program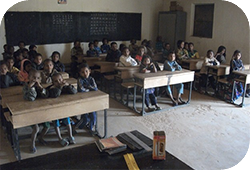 A comprehensive funding program
AREVA Corporate Foundation is funding a program to support 10 schools in the Ingall department by improving living and working conditions for nearly 900 children during the 2014/2015 school year.
This involves pursuing actions undertaken in 2013 to ensure that key project activities are implemented:
supplying food to school cafeterias so that children receive three meals a day;
maintaining a herd of goats to provide milk and meat to school cafeterias;
donating manuals and school supplies;
renewing training and literacy sessions for teachers and families ;
continuing actions to raise awareness among the local population to ensure the sustainability of children's schooling.
In 2016, Mothers are provided with the opportunity to participate in income-generating activities.
Better schooling conditions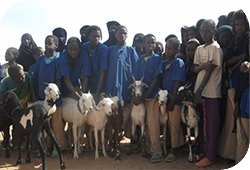 Better schooling conditions
The Ingall department is largely populated by nomads and has one of the country's lowest school enrollment rates.
It is an extremely young population, with more than half of its members aged 15 or less, and school staffs have shrunk considerably in the past several years.
The communities are aware of the alarming situation as far as child education is concerned, but are often helpless to overcome the many difficulties in view of the ongoing food emergency and economic crisis.