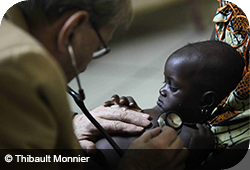 Mécénat Chirurgie Cardiaque" (heart surgery funding) or MCC, is an association that arranges for children from poor countries and who suffer from serious heart diseases to be operated on in France, when the lack of technical or financial means in their own country does not allow it there.
Child surgery so save lifes
In 2016, the AREVA Corporate Foundation has extended its support to MCC for another one year. This will make it possible to:
perform surgery in France on the thirty children identified as suffering from heart malformations in Niger and needing opération. These children will be operated and welcomed in families in France.


finance the medical care for a Mongolian child in France, already operated twice with AREVA's support.
Since 2008, the Foundation has already assisted MCC by financing operations on children from Niger and Mongolia and helping the association to acquire a portable ultrasound machine.
Background
About one out of every 100 children born worldwide has a congenital heart malformation. Others develop infectious heart diseases. In either case, the result is debilitating and often fatal.
Heart surgery is often the only way to save these children. Such operations require advanced medical techniques that can be very expensive, however, and there are few countries with the necessary equipment, skills and financial resources.